Rosie's favorite recipes are here for your enjoyment. Most of these recipes come from the heart and have been enjoyed for years by my four kids and many of their friends. I hope you will come back often to see what I've added. If you want updates, remember to register to the right of this page with your email and you will receive the latest posted recipe!
Find Christmas cookie recipes as well as other favorite cookie recipes that can be made all year! Fun for the whole family! 
Who does not love pumpkin? All the reasons you should be eating more pumpkin. Ways to add more pumpkin to your meals. And actual recipes with pumpkin in them! 
When it's cold outside, we need to eat warm, nutritious foods. Go here to find some recipes that will warm you up inside and out! 
Rosie's favorite recipes # 1:
Baked cod with parmesan nut crust
Serves 4
From the kitchen of Rosemary Hersey
2-3 lbs Fresh Captain's Cut of Cod-[I try to get Wild Caught]
Butter [do NOT use margarine]
Olive oil
Salt & pepper [or seasoned salt & pepper]
@ 1 cup total nuts: Handful each of almonds, walnuts, pine, macadamia nuts- [or any mixture of nuts will do honestly…I've used many different combinations]
Fresh parmesan cheese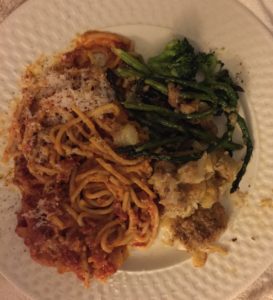 Optional: Old Bay seasoning
Preheat oven to 350 degrees. Rinse cod. Prepare 13 X 9 inch dish with little olive oil drizzle. Place cod in dish, flip over several times, coating fish with olive oil. Season with salt and pepper and Old bay if desired.
In small food processor, grind nuts till smooth. Cover fish with nut mixture.
Bake at 350 for 15-25 min, depending on how thick the cut of cod is. Check after 15 minutes, it may need a little more. Fish should be translucent.
Sprinkle with fresh parmesan, return to oven until cheese melts.
Serve with your favorite side dishes. With this fish I like to make one of my red sauce pastas (recipe to follow soon) or fresh pesto, and sautéed red, yellow peppers with either asparagus, broccoli or cauliflower for lots of color.
Enjoy this very flavorful meal with a glass of wine delivered to your door!
Rosie's favorite recipes #2:
Garlic-Rosemary-Dijon, Pistachio/Almond encrusted Rack of Lamb
From the kitchen of: Rosemary Hersey
Rack of Lamb (8-10ribs)
Serves 4
Ingredients:
Dijon Mustard
Fresh rosemary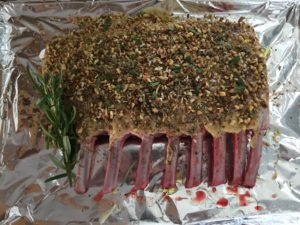 23 large garlic cloves sliced thin
pistachios (@ 1/3 cup) roasted or raw
almonds ( @ 1/3 cup) roasted or raw
olive oil
onion salt
cracked black pepper
sea salt
sage
Preheat oven to 425 degrees. Salt and pepper both sides of lamb rack. Spread Dijon mustard on both sides. Place a few drizzles of olive oil under lamb with sliced garlic pieces and a sprig of fresh rosemary. In mini cuisinart, chop nuts till smooth. pour over lamb rack. Sprinkle other spices over the top.
Bake at 425 for 20-25 min or until meat thermometer says 135-145 degrees.
Remove from oven. Let repose for 10 minutes before serving.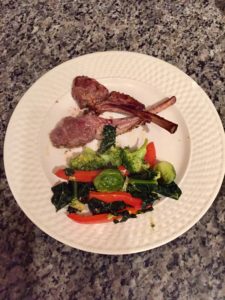 Leftovers make a nice, healthy lunch or snack! 
Rosie's favorite recipes #3:
Who does not love a good quiche? Especially on cold winter morning? This one is especially delicious and hardy with the sweet potato in it. In addition, if you make the homemade pie crust, it is flaky and amazing. 
Spinach, mushroom, cheese, sweet potato Quiche
From the kitchen of Rosemary Hersey
Serves 8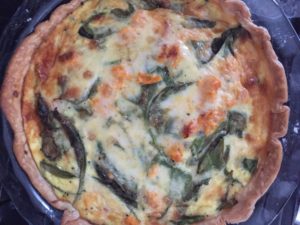 Ingredients:
Pie Crust (see below)
½ cups fresh baby spinach
1 cup milk
1 cup ½ and ½
¾ any shredded cheese (I use organic cheddar)
salt and pepper
1 small pack bella mushrooms
1 baked, cooled sweet potato, cut into small pieces
Night before: Bake a sweet potato and cool in refrigerator overnight
Note: [I usually make this quiche after I have already made a meal with baked sweet potatoes, and I just make an extra one on purpose for this].
Preheat oven to 425 degrees
Prepare pie crust: [or use a pre-made one]
Ingredients:
1 cup all purpose flour
½ tsp salt
1/3 cup plus 1 Tblsp shortnening
2-3 Tblsp cold water
Prepare pie crust:
In medium bowl, mix flour and ½ tsp salt. Cut in shortening, using pastry blender (or two knives), until particles are size of small peas. Sprinkle with cold water, 1 tablespoon at a time, tossing with fork until all flour is moistened and pastry almost leaves side of bowl (sometimes 1-2 more teaspoons of water is necessary).
Gather pastry into a ball. Shape into a flattened round on lightly floured surface. Wrap flattened round of pastry in plastic wrap and refrigerate about 45 minutes or until dough is firm and cold, yet pliable. This allow shortening to become slightly firm, which helps make the pastry more flaky. If refrigerated too long, let pastry soften slightly before rolling.
Roll pastry on lightly floured surface, using floured rolling pin, into circle 2 inches larger than upside down 9- inch pie plate or quiche dish. Place in dish or pie plate, pressing firmly against bottom and side.
Bake at 425 for 9-12 minutes, until partially cooked. Remove from oven and let sit.
Reduce oven temperature to 325 degrees.
Combine:
6 eggs
1 cup milk
1 cup ½ and ½
salt and pepper
Set aside:
Sautee' mushrooms in little butter till soft and smells sweet. Cool.
Line pastry shell with fresh baby spinach and half cheese. Add mushrooms and sweet potato pieces. Gently pour egg mixture over vegetables. Sprinkle rest of cheese on top.
Bake at 325 for 35-40 minutes. Checking to see when edges are brown and quiche looks firm.
Cool partially and serve while warm.
Note: Quiche can be frozen, covered well without being cooked. Remove from freezer, bake uncovered at 325 for 45-60 minutes. Checking regularly to be sure it is not overcooked.
Rosie's favorite recipes #4:
Cinnamon Coffee Cake
From Rosemary's kitchen 
[great for Christmas morning…or the perfect hostess gift at a dinner party]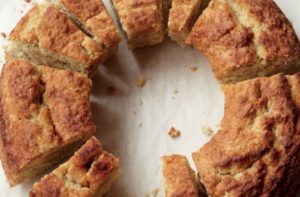 Mix Together:
1 box yellow cake mix
1 box instant vanilla pudding
1/2 cup vegetable oil
 4 eggs
1 cup sour cream
……set aside……..
Mix in separate bowl:
1/3 cup of brown sugar
1/3 cup granulated sugar
2-3 TBLSP cinnamon
Grease a bundt pan well. Sprinkle a little of cinnamon mixture in bottom of pan. Pour 1/2 batter into pan. Sprinkle rest of cinnamon mixture over that. Pour other half of batter. Swirl. Bake 45-50 minutes at 350'. Leave in for at least 10 minutes and invert onto serving plate.
NOTE: Can be prepared ahead of time and frozen. Just pull out of freezer 1-2 hours before you want to serve, (or overnight). Let thaw on counter at room temperature.
Enjoy…! 🙂
Rosie's favorite recipes #5:
Slow cooked Spicy Red sauce with Onions and Cheese
From Rosie's kitchen to yours…
In Medium to Large sauce pot, pour two 28oz cans of whole, peeled 'San Marsano' tomatoes, one 15oz can of tomato sauce, and one small can of tomato paste. Fill tomato paste can up with warm water, put a few teaspoons of sugar into warm water. Stir until dissolved. Pour into tomato sauce. Stir. Drizzle some Extra Virgin Olive Oil (about ¼ cup) onto tomato sauce and Salt and Pepper. Stir again. Take one medium to Large sized sweet yellow onion (Vidalia if possible), peel off skin. Cut into quarters and drop into sauce. Add little more salt and fresh ground pepper and one whole stick of butter (not margarine). Cover with lid. Bring to a slow boil, watching carefully for the first 10-15 minutes until you can smell the sauce cooking. Turn heat down to a slow simmer and slow cook for as long as you can… 2-3 hours is best. However, if you only have 1-2 hours, or even 1 hour, it'll be fine. Keep covered as much as possible. Try not to peek. Only peek to stir, maybe once an hour. But be careful not to burn…!!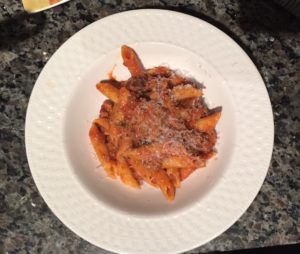 About an hour into the cooking process:
Add about ¼ cup of red wine (if you have some open) or Red cooking wine. Throw in some fresh oregano and basil. If you don't have fresh, you may use dried. (Fresh is always better…) However, you can also use Italian seasoning either in addition, or instead of. And I usually put a dash of crushed red pepper flakes to give it a little kick. If you don't like spicy, then leave the red pepper out.
While this is simmering…
Start water pot for pasta (add a dash of salt and olive oil)… bring to boil.
Cook pasta (penne or linguini… rotini…something that will hold a thick sauce…whatever you like)
While pasta is cooking, grate cheeses: ½ cup each of fresh Parmesean Cheese, Romano Cheese, and Emmenthaler (swiss) Cheese.
Drain pasta. Pour hot pasta back into empty pot. Add a little olive oil and a little butter which will help prevent the pasta from sticking together.
Slowly add the emmenthaler cheese to Red Sauce…alternating with 1/3 to ½ cup of light cream…stirring carefully, and ½ cup each of Parmesean and Romano cheeses into the sauce. (Save the other ½ cup of cheeses for top of pasta and to serve with dinner).
Note: recently I did not have Emmenthaler (swiss) so I substituted Brie cheese and it was wonderful…
Pour Red Sauce onto hot pasta in pot. Toss. Add a little more salt and pepper to taste, or offer with dinner. Transfer to large pasta bowl. Sprinkle with a little cheese and serve the rest with pasta. Furthermore, I like to sprinkle a little fresh basil and/or oregano on top for a nice presentation as well.
Bon Apetito…!!!
Coming Next in Rosie's favorite recipes: The Best Meatloaf ever…and Texas Brownies!
Looking for other great recipes while waiting to see more of mine?