Winter recipes to help keep you healthy while the weather outside is frightful! Winter can be exciting for people, especially if you enjoy outdoor sports or activities. I know that I used to like to snow ski, and go sledding or ice skating with my kids when they were growing up. I will be honest. Now I get cold so easily and it affects me more than it used to. I've learned the reason for that. As we age, our tolerances to extreme weather changes. It is more difficult for our bodies to react and respond to really cold (or really hot) weather. Choosing to wear appropriate clothing is critical, so bundle up in the cold! Cover up those ears, neck and head. Be sure to wear scarves and gloves and socks! Additionally, eating foods that are appropriate for the season is also very important.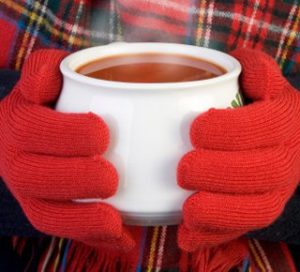 Baby, it's cold outside. Did you know that all foods have their own 'thermal energy'? Some foods naturally warm the body while others cool the body off. Winter is the time for warm and nourishing foods. Eating salads, raw vegetables and cold drinks are damaging to our spleen and stomach. It takes a lot of energy for our bodies to keep ourselves warm during the cold weather. Putting cold, raw foods into our system requires a lot more energy (or Qi) to chew, digest and distribute the nutrients throughout our body. Winter recipes like warm soups, congee, cooked root vegetables and rice and warm oatmeal are better choices during this time of year. If you do not own a crock pot, now is the time to get one! Go here to order one now! Get in the habit of making at least one homemade soup every week. It is easy on the budget! Your family and your body will thank you!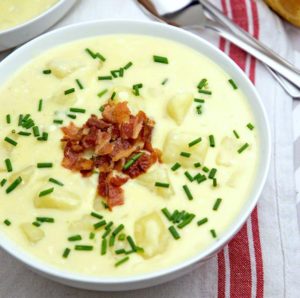 Below you will find some of my favorite winter recipes to keep you nourished and healthy during the winter months. And for other free recipes, go to this page. Happy cooking and Stay warm! 
Winter recipes # 1 Congee
Congee, also called Jūk is a porridge-like dish, made from grains, typically rice. It is boiled in many times its weight of water or bone broth for a long time until the rice breaks down and becomes fairly thick. Congee is a very common food in Asia for breakfast and at others times of the day as well.
It is a wonderful alternative to oatmeal or grits especially when made with bone broth. It tastes great with eggs and can be served as a side with any other combination of protein and cooked vegetables.
The Spleen and Stomach prefer warm foods, especially during the fall and winter months. Winter recipes [think warm] are easier for digestion, which the Spleen is responsible for. Congee is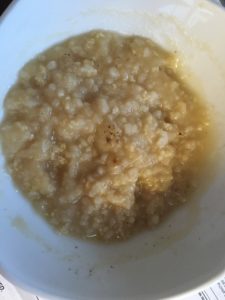 used to support the Spleen and Stomach and is an excellent food for anyone who is recovering from surgery, childbirth or just needs a little extra boost and nourishment. Because this is made with grains, which are considered 'sweet' in Chinese Medicine, eating Congee helps curb your desire for other sweet foods.
Recipe:
1 part grain to 8 parts liquid
1/3 cup each of:
white rice

brown rice

millet (or quinoa, red rice, buckwheat)
NOTE: Be creative here.

This is the very basic recipe

. ANY grains can be used in place of these or in addition to these. For instance, sometimes I will use 1/4 cup of 4 types of grain to my 8 parts of liquid. 
4 cups water
4 cups bone broth
NOTE: Add your favorite liquids. Bone broth is packed with protein, therefore I suggest always using some. For instance, you can add coconut milk for added sweetness. 
Few dashes of sea salt and ground pepper
NOTE: Other options to consider adding:
nuts, dried apricots, goji berries, pumpkin seeds, etc for a sweeter version

any vegetables- peas, carrots, broccoli (cut up into small pieces), celery, spinach, kale etc.

other spices for flavor

Savory recipe: Add to above basic recipe–2 pieces of OssoBucco lamb (bone in) or lamb chops (bone in), fresh brussel sprouts, kale, whole sweet (vidalia) onion, cut into quarters, oregano, several cloves of garlic, tyme, rosemary and salt & pepper. Delicious! 
How to make:
Put everything in a crockpot, cook on high for 3-4 hours, then low for 3-6 hours. Can begin cooking on low if leaving all day or overnight. I usually throw everything in before bed and when I wake up it is ready for breakfast. Make a few fried or scrambled eggs to go with it. Yummy! 
**Serve Congee as a side dish for any meal. 
Read more free Chinese nutrition tips HERE.
Winter recipes # 2
Rosie's Awesome Chili
Serves 10-12
Ingredients:
Meat:
¾ lb of grass fed ground beef
1 ¼ lb of grass fed veal, pork, ground beef (usually called meatloaf mix)
Produce:
2 cloves garlic
3-4 green onion, chopped fine
1 medium onion, chopped
1 tbsp dried oregano
Red bell pepper (1), chopped
1 (16 oz) can each of: red kidney beans, pinto beans,
1 can (16 oz) pumpkin puree
2 28 oz cans of tomato sauce
1 16 oz can of diced tomatoes
1 6 oz can tomato paste
Baking & Spices:
1-2 tsp dried mustard
1 tsp ground pepper
2 tsp kosher salt (or himilayin salt)
1 tsp crushed red pepper (flakes or ground)
2 tsp chili powder
1-2 tsp Cumin
3-4 tbsp sugar
Serve with:
Sour Cream
Shredded Mexican (cheddar and Colby jack) cheese
Crushed tortilla chips (or whole for dipping)
Instructions:
Heat a large skillet over medium heat. Add the meats, pepper, onion and cook until the meat is browned and the vegetables are tender. Drain any collected grease and liquid if desired.

Add the garlic and cook for another minute or two.

Stir in the spices (dried mustard, crushed red pepper, cumin, oregano, salt and pepper.

Add tomatoes, tomato sauce, tomato paste, sugar, canned pumpkin, pinto and kidney beans. Simmer on low for at least 2 hours, or put in crockpot on low for at least 4 hours. Additionally, water can be added as needed to achieve desired consistency. I like mine thick, so I do not add a lot of water.

Serve with desired toppings.
Enjoy!
Winter recipes # 3
Creamy Corn Chowder
From Nana Hersey, modified by Rosemary Hersey
Serves 8-10
4-5 large potatoes, peeled, cut in small cubes
1 lb of bacon (cooked crispy)
1 large (or 2 med size) sweet (vidalia) onion, chopped (sautéed in butter till soft)
2-3 cans of organic, whole kernel corn, drained
2 cans of cream corn
1 quart of whole milk
1 to 2 pint(s) of light cream (can use ½ and ½ or heavy cream)
Salt and Pepper to taste
How to make:
In large pot (or sautee' pan if you have one), cook bacon, remove from pot, drain fat. Put bacon on paper towel and set aside. Use same pot or pan and add a few tablespoons of butter with the chopped onion. Sautee' until soft. Put in potatoes with onions and cover with water. Boil until potatoes are soft, but not mushy. Drain water out of pot, leaving behind potatoes and onions. Crumble bacon and add to pot. Add corn to pot. Add milk. Stir gently. Begin to cook on medium heat. DO NOT BOIL. Add salt and pepper while cooking. Slowly add cream to soup until desired thickness and quantity. If more people are going to eat it, go ahead and add the second pint of cream… it makes it thicker anyway if you like it thick.
Cook on low to medium heat until thickens… about an hour. Not necessary if you are in a hurry… can eat sooner. It tastes better if it slow cooks for a longer period of time.
Personal Note: Serve with oyster crackers. Offer salt and pepper.
Enjoy!!
More winter recipes coming soon!
Go to this page to see Rosie's favorite recipes- they are free! 
To find artisan fine wines at online prices, delivered to your doorstep monthly, go here.