Christmas Cookies are fun to make, and even more fun to enjoy. Made with red and green colored sugar, they brighten up any platter and everyone's face! They are a combination of peanut butter, and chocolate! The fun part is the rolling up and dipping the balls into sugar. That, along with placing the kiss into the warm cookie when it comes out of the oven, is the best part! 
If you are looking for a fun game to play with your kids while the cookies are baking or afterwards while you are enjoying them, go here to find all the latest games and toys. My kids and love to play Bananograms and Sequence. 
NOTE: Adults…If you'd like to learn about Bitcoin Mining, what it is, how it works and how to get into it? Go here for info about Blockchain and cryptocurrency. 
Christmas Kisser Cookies
From the Kitchen of
Rosemary Hersey
½ cup Crisco shortening                                 1 tsp vanilla
½ cup granulated (white) sugar                       ½ tsp salt
½ cup brown sugar                                          1 tsp baking soda
½ cup peanut butter                                         1 ¾ cup flour
1 egg                                                                2 tablespoons milk
1 package HERSHEY'S Kisses (unwrapped)
Mix above ingredients together until smooth. Batter will be thick.
Roll into balls and dip in RED and GREEN Sugar.
Bake at 375' for 8-10 minutes.
When the cookies FIRST come out of the oven, place one kiss into the center and push gently… It just start to melt and be sure you taste one when they are warm! 
Makes 4 dozen.
I usually double the recipe and freeze half.
Enjoy.
Happy Baking!
Christmas Cookies continues:
Old fashioned Christmas Oatmeal Cookies
The Zorc Family recipe
From Rosemary's Kitchen: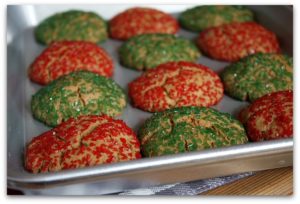 Ingredients: 
2 cups granulated sugar                   2 cups shortening (white)
3 eggs                                               2 cups oatmeal
3 ¾ cup flour                                  1 ½ tsp cinnamon
2 tsp baking soda                             ¾ tsp salt    
Cream shortening and sugar, add beaten eggs. Mix. Add oatmeal (nuts/raisins if desired), mix in sifted flour, cinnamon, soda and salt. Roll into balls, dip in colored red and green sugar, press with a fork crosswise.
Bake @ 375' for 8-10 minutes, careful not to overcook.
TIPS:
These freeze well in Tupperware with wax paper in between.
They can be made anytime during the year. Be creative and use different colored sugar for each occasion. For instance, pink and red for Valentine's Day. Or green for St. Paddy's Day. Blue, yellow, pink and green work well for Easter.
Enjoy!
Soft Spritz Cookies
From Rosemary's Kitchen
Ingredients:
Single Batch (2-3 dozen)                                        DOUBLED (4-6 dozen)
1 cup real butter (2 sticks) softened                          2 cup (4 sticks) real butter
¾ cup sugar                                                             1 1/2 cup sugar
1 large egg                                                               2 large eggs
1 tsp vanilla                                                              2 tsp vanilla
¼ tsp almond extract                                                1/4 tsp almond extract
2 ¼ cup flour                                                            4 1/2 cup flour
¼ tsp salt                                                                 1/2 tsp salt
Combine butter and sugar until creamy. Beat in egg, vanilla and almond
extract. Add flour and salt. Divide into 2-3parts and color dough (green
for trees, yellow for stars, red for ornaments, if you're really creative,
divide into 4 parts and make one blue… really pretty when served on a
plate. ☺ )
Use press-out cookie maker to make shapes. Press cookie dough onto baking sheets.
Bake for 7-9 minutes, until just beginning to look light brown on edges.
DO NOT OVER BAKE!
Personal Note: These are great for Christmas.I use the Christmas tree,
ornament, and star die with spritz cookie press. 
Photo to follow when I can find it! 
Go here for other fun recipes by Rosie!