Roses, wine and beautiful soaps are a girls' best friends when it comes to Valentine's Day or
 any day! Valentine's day is around the corner, and I am pretty sure that anyone would LOVE to receive a beautiful bouquet of roses, a nice bottle of wine and artisan soaps that make her (or him) feel special! Imagine spoiling your sweetie with an armful of thoughtful gifts for Valentine's Day, her birthday or even for a special date night. She will be a happy girl! 

Roses, wine and beautiful soaps- bring me JOY!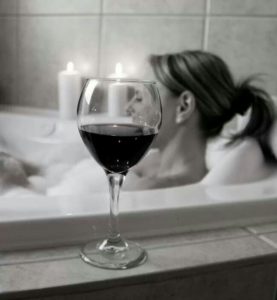 One of my favorite things to do after a long day of work is to come home, pour myself a glass of fine wine and draw a hot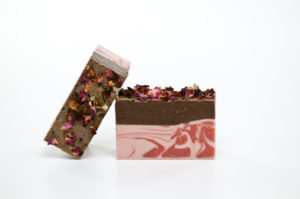 epsom salt bath. It is a luxury that I thoroughly enjoy. Now that I have these beautiful artisan soaps, bathing is more luxurious than ever before. And my skin thanks me afterwards!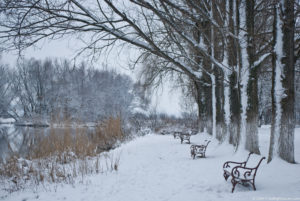 Wintertime is especially drying on our skin. Cold air, wind, and dry rooms without humidifiers tend to zap our skin of its natural moisture.  Using organic bath products without artificial ingredients, that put moisture back into our skin, protects and helps it be the barrier it is supposed to be. Our skin is considered our second lung. It has an essential role of protecting our bodies, especially our lungs and its function of descending and dispersing fluids in our bodies.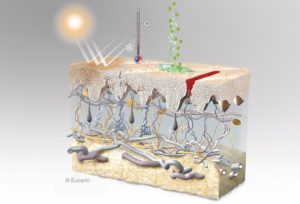 Therefore, it is critical to take care of our skin! Protect it from the elements. Dress sensibly when it is cold. Wear hats, gloves, scarves and warm socks. Remember to put natural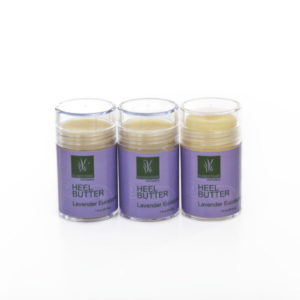 lotions on after your bath or shower. Use heel butter on your feet before bed. Wear lip balm to keep your lips from drying and cracking. Remember to use face cream to protect the skin on your face and neck! 
Enjoy Life
Life was meant to be enjoyed. Finding a balance between work and play is so important for our body, mind and spirit. As an acupuncturist, my job is to help my patients realize their full potential. It is not about 'fixing' them or just taking their physical pain away. Sure, I can do that with some needles, moxa and other holistic modalities. More importantly is to stress the value of finding a good balance in their lives between work, relationships, home life and fun.
Two of the questions I routinely ask my patients are: "what is flourishing in your life right now?" and "what brings you joy?" Do you know how many people look at me with a blank stare and cannot answer? They are letting life pass them by as opposed to living it fully. One way we can live with more joy is to be more mindful. Find little ways every day to be more present. It is easy to get caught up in our busy lives, and our 'go, go, go mentality'. I invite you to stop and take a pause for 5 minutes every hour. Stand up from your desk and stretch. Look out your window. Notice something. The sun shining. Watch the birds fly by. Pet your cat. Play with your child. Do some slow, deep breathing. Smile. 
Roses, wine and beautiful soaps celebrate family, friendships and love
Sharing nice meals and wine is another way to find joy and bring joy to others. Drinking fine wine adds to the specialness of the experience. Breaking bread together is an old pastime that never gets old for me. I am from a big family. I have 8 brothers and sisters! Some of my favorite memories are from dinners together with my siblings and parents. Still today whenever we get the opportunity, we share meals with each other at every possible chance. Although I miss the years of nightly family dinners with my own four kids, I now look forward to anytime I get them together. Now that they are adults, we get to share fine wine too! I love how they all appreciate a good red wine. I will admit that I taught them well! 
Roses, wine and beautiful soaps are reminders of those we love and have lost…
Roses have a special place in my heart for several reasons. The most obvious one is my name. More importantly is the connection I have with my mother. Before my mother passed away, almost 18 years ago, I asked her for a sign. We decided on a pink rose. Since then every time I see one I think of her and smile. She was taken from this world much too soon in my opinion and I miss her dearly. AND, I am lucky to know that she sends me her love and signs from heaven, in the form of pink roses. Missing loved ones is sad and painful sometimes, and it is also nice to remember them with love. 
Don't forget to spoil your sweetie with special gifts on Valentine's Day… Roses, Wine and Artisan soaps are here for you to order now!