Aromatherapy-Essential Oils therapy: is using a plant's aroma-producing oils (essential oils) to treat disease. Essential oils are taken from a plant's flowers, leaves, stalks, bark, rind, or roots. They are often used for immune support, relaxation, and sleep. Other uses are for stress relief, emotional balance, skin care, and respiratory health. Did you know that essential oils are what 'green cleaning products' are made of? One of the best benefits is reducing muscle tension and pain relief.
Many holistic medicine practitioners use essential oils with their patients. Aromatherapy is used with acupuncture and massage. Furthermore, you can also massage the oils into the skin or pour them into bath water.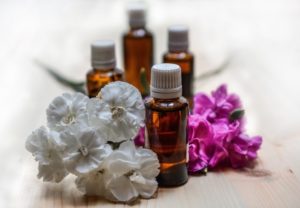 Aromatherapy-Essential Oils have thousands of uses. Here are the 10 Most Popular Essential Oils & 174 Magical Ways To Use Them:
Bergamot essential oil is distilled from the peel of the fruit of Citrus bergamia, better known as the bitter orange tree. It's extract, not the essential oil, is best known for its use as a flavoring in Earl Grey tea. Also, Bergamot essential oil possesses the same fresh floral, herbal and citrusy aromas – easily recognizable to anyone familiar with the tea.
Bergamot essential oil is best known for its mood balancing and skin healing properties. However, it can also be used for such things as pain relief, breaking up chest congestion, reducing fever and treating digestive problems.
Here are 15 reasons Bergamot aromatherapy-essential oils should be in every home:
antidepressant

Relieves anxiety

treats digestive problems

used to eradicate intestinal worms

hormonal balance

skin care: can reduce scars and other blemishes (like acne) on the skin.

prevents infections in cuts and scrapes

pain reliever

relieves chest congestion

redues fever

can be used as a mouthwash to prevent bad breath

can be used as a deodorant

use as an air freshener

hair care: reduces itching and scalp infections

lowers blood sugar levels in diabetics
Clove essential oil is extracted from the dried aromatic flower buds of Syzygium aromaticum, an evergreen tree native to Indonesia. Just like the popular cooking spice, Clove essential oil provides a powerful spicy, warm and woody aroma with just a hint of fruitiness which makes it an excellent compliment for citrusy, sweet and spicy aromatherapy-essential oils diffuser blends. 
Medicinally, clove oil is very well known for its pain relieving properties and for its use in dental applications. However it's uses go far beyond that. Clove essential oil can also be used to reduce inflammation, treat nausea and other digestive ailments, freshen the breath and even clear up acne!
Clove is known to treat these diseases:
toothache remedy

soothes inflammation of mouth and throat

breath freshener

treats nausea and vomiting (especially during pregnancy– Morning sickness)

protection from blood-sucking insects

combats fungal infections (especially thrush, yeast infections)

controls acne

treats fatigue

increases sexual performance

relieves headaches

relieves respiratory problems
pain reliever for rheumatic joints and sports injuries
relieves earaches
excellent pesticide and herbicide (instead of harmful chemicals)
Aromatherapy-essential oils may refer to the oils extracted from any number of different trees. One specific tree, called Eucalyptus brings us a fabulous oil. Dependent upon which species it is derived from, each variety of eucalyptus oil carries its own unique fragrance and health benefits. However, the most popular of these oils and the one to which we are referring in this instance is distilled from the leaves and young stems of Eucalyptus globulus.
Easily recognizable by its bold, fresh minty aroma, Eucalyptus globulus essential oil is well known for its use in decongestant chest rubs as well as in many topical pain relievers. However, its uses don't stop there. Eucalyptus essential oil is also a powerful anti-microbial and immunostimulant, making it ideal for staying healthy during cold and flu season. Furthermore, it can also be used in aromatherapy to provide mental clarity and a boost of energy. It can even be used as a natural insect repellent!  
Below are the benefits of Eucalyptus Oil:
sinus decongestant

controls coughing

joint and muscle pain reliever

sore throat spray

disinfecting cleanser

dental anti-microbial–kills germs in mouth, reducing plaque, and helping to prevent gum disease. 

boost immune system

asthma relief

insect repellant

aroma-therapeutic–is refreshing and powerfully stimulating
One of the oldest and most useful essential oils is the world, Frankincense essential oil is extracted from the resin of one of four species of the genus Boswellia. This is a hardy tree which grows wild in the arid woodlands of the Arabian Peninsula and northeastern Africa. Frankincense resin is well-known as a traditional incense (thus the name Frank-incense). It has been used throughout history in countless spiritual and religious ceremonies. You might recall the mention of it in the Bible. The kings brought gifts of Gold, Frankincense, and Myrrh to the infant Jesus. As it's more popularly known, Frankincense truly is the "king of oils."
Frankincense is unique in that its mellow aroma is a perfect combination of wood, earth, balsam and citrus – making it a good (if not perfect) compliment to just about every other essential oil in existence. Furthermore, because it is a base note Frankincense essential oil would be a 'must have' in every collection even if it didn't come with an impressive list of health benefits.
Some of the many uses and benefits of Frankincense essential oil include as a mood enhancer and stress reducer, an anti-inflammatory and anti-microbial, as well as a digestive aid. Frankincense oil can help to fade scars and heal wounds faster. It can also be used to ease itching and reduce swelling of insect bites and other skin ailments.
The main health benefits of frankincense oil can be attributed to the following properties:
anti-inflammatory

astringent

antiseptic

disinfectant

digestive

expectorant

diuretic
In addition, this oil also has cellular regeneration, gas removal, cellular protection, menstruation balancing, uterine and wound healing capabilities.
You'll find a detailed description of the oil as well as its many miraculous benefits and uses in this great article: 14 Genius Uses For Frankincense Essential Oil!
Another essential oil which gets a lot of love in our lives is that of Lavandula angustifolia, the popular garden herb English lavender. Lavender essential oil smells just like the flowers from which it is distilled – sweet, floral, green and wonderful; and its many health benefits are even better than its fragrance!
Best known for its calming and sleep inducing properties, Lavender essential oil doesn't stop there by any means. It is also anti-inflammatory, anti-fungal and anti-bacterial meaning it can be a godsend for reducing severity of symptoms and speeding the healing of skin conditions like acne, ringworm or eczema. Lavender essential oil may be used to improve digestion and to relieve pain and swelling of sore muscles or joints. This is by far one of my favorites. I use it daily, multiple times!
Many insects like bees, butterflies and other pollinators are attracted to the lavender flowers. However, lavender essential oil is still an effective natural repellent for many annoying flying six-legged pests!
Lavender has a multitude of benefits:
Antibacterial

improves complexion

anti-fungal remedy

insect repellant

Calms nerves

clears the mind

alleviates pain

promotes respiratory health

improves digestion

sleep aid

reduces fever

soothes sunburn

relieves earaches

alleviates motion sickness

moistens dry eyes

heals chapped skin

natural deodorizer

aromatherapy

seasoning

reverse hair loss
Lemon essential oil hardly requires a lengthy introduction. Most of us have been exposed to it for our entire lives in one form or another (e.g., air fresheners, soaps, furniture polishes, and other household cleaning products). In fact, the oil distilled from the rind of Citrus limon is probably the most widely used essential oil in the world today!
This powerful citrusy essential oil is well known for its anti-microbial properties and it is widely used as a stimulating indoor air freshener and household cleanser – that you probably already know.
Some of its other uses include as a natural pain reliever, a topic anti-fungal remedy, as a weight loss aid or even to alleviate severe nausea like that associated with morning sickness. Lemon essential oil can also be diffused for aromatherapy to reduce stress and anxiety while simultaneously enhancing mood and concentration. You can even use it to cleanse and naturally highlight your hair!
Listed below are some of the amazing things lemon essential oil can do for you!
treat candida infections

relieve pain

enhance mood and concentration

lessen stress and anxiety

weight loss

skin toner

alleviate morning sickness

degrease your hair

all purpose cleaner

reusable wipes 

TIP: 




If you loathe using paper towels to sop up small spills but still want to have on-the-go disinfecting wipes on hand, then this one's for you! You'll need a handful of square cloths (old t-shirts or bed sheets would do the trick) and a suitable container with lid for easy access.

Recipe: 1 ½ cups of warm water + 1 tablespoon of coconut oil + 1 teaspoon of vodka + 3 drops of lavender oil+ 3 drops of lemon oil

When you're done using these wipes, simply wash the cloths and reuse them for your next batch of lemon oil disinfecting wipes!

laundry detergent

wood polish

clean small wounds

air freshener spray
Oregano essential oil comes from the leaves of the popular kitchen spice Origanum vulgare. While not as popular as many of the others on our list, this is one incredible essential oil with some pretty amazing abilities! Oil of oregano is a perfect combination of warmth, earth and spice. From the moment you open the bottle and its harmonious aroma permeates your senses, you'll want to use it for everything.
Fortunately, oregano essential oil has enough excellent applications in day-to-day life that you can do just that! Use it to treat and reduce symptoms of skin conditions like eczema, psoriasis, and rosacea. Apply oregano essential oil to alleviate painful menstrual cramps or other menstrual problems. Use it to ease an upset stomach or to help fight off cold and flu infections. Oregano oil can even be used to eliminate parasites for both people and pets.
Here is a list of the many benefits of Oregano essential oil:
relieves stomach upset
gets rid of intestinal worms
treats respiratory problems
relieves skin ailments
treats fungal infections
relieves menstrual pains and problems
reduces risk of obesity, cardiovascular disease and cancers
helps to manage diabetes
animal skin care problems and parasites
insect repellent
TIP:

Always Use Quality Oil Of Oregano

Most of the above therapeutic uses are attributed to the essential oil of oregano extracted from Origanum vulgare. Other aromatic plants from the mint family and several other related plant families contain many common volatile agents such as thymol and terpinene. Their essential oils may have some of the health benefits of pure oregano oil, but not all.


For instance, the Mexican oregano Lippia graveolens and Cuban oregano Plectranthus amboinicus are widely used in the production of dried oregano herb as well as the essential oil. When used for flavoring, it may not make much of a difference, but they may not be as effective in treating certain medical conditions that call for the use of pure Mediterranean oregano oil. 
Aromatherapy-Essential Oils never cease to amaze me with what they can do!
Peppermint. Just the word itself can conjure up visions and sensations of a cooling, revitalizing experience. In fact, peppermint has been a favorite since ancient times due to its distinct effects on the senses. It is widely used and recognized worldwide for its copious applications in natural health and beauty, coming from the leaves of Mentha piperita, the humble peppermint plant. This mint hybrid is a favorite among gardeners and essential oil enthusiasts alike, and for good reason! The invigorating minty essential oil of Peppermint claims the longest list of uses and benefits of any of the other oils in our top 10 by far!
Some of the highlights include for cold and flu prevention as well as treatment of symptoms, relief of joint and muscle pain and inflammation, alleviating headaches and clearing up skin conditions. Use peppermint essential oil to improve digestion, relieve nausea and eliminate gas or bloating. Put it to work against parasites – both internal and external. You can even use it to cool off in the heat of summer without cranking up the air conditioning (and your electric bill)!
And of course, if you don't already have a bottle of peppermint oil in your collection, you can purchase one here.
My personal favorite, since it is also my name. Hehe. Rosemary essential oil comes from the needles of the evergreen shrub Rosmarinus officianalis – another popular and common kitchen herb with extraordinary healing potential hidden inside its natural oils! Just like fresh rosemary, the essential oil of this popular cooking herb has a crisp woody, herbal and slightly balsamic aroma with just a hint of camphor.
With its clean and refreshing fragrance, it should come as little surprise that rosemary essential oil is great for cleansing the body both inside and out. Use it to detoxify your skin and sub-dermal tissues. Improve scalp health and get rid of dandruff! Eliminate germs that cause bad breath. Boost your immune system and ward off cold and flu infections. Topically, apply rosemary essential oil to alleviate pain and swelling in muscles and joints. Additionally rosemary soothes tension headaches and treat digestive issues. Diffuse rosemary oil into the air to promote mental clarity, improve mood and enhance memory. I personally use it when I am studying! Rub it on your wrist and the inside of your feet! 
Aromatherapy and Essential Oils never cease to amaze me. Here is a comprehensive list of the many benefits magical of rosemary include:
For mental health:

stress relief

anxiety relief

mental clarity

learning and memory

For physical health:

increased circulation

boosts immunity

cures headaches

alleviates muscle and joint pain

cures indigestion

cold, cough, flu relief

For hair, skin and health:

banishes dandruff

stimulates hair growth

Aromatherapy-Essential OilsTip @ rosemary and hair growth 

Mediterraneans have been using Rosemary for centuries, to stimulate hair growth.

One study of 84 people with alopecia areata, a disease which causes hair to fall out in patches. The study found that those who massaged their scalps with rosemary and other essential oils daily for seven months experienced significant hair regrowth compared to those who massaged their scalps without the essential oils.

mouth wash

gets rid of cellulite

TIP:

Because rosemary improves circulation which flushes out toxins, it's an ideal oil to use to banish cellulite–those fatty dimples that are so hard to get rid of.

Add two drops of rosemary essential oil and two drops of fennel essential oil to three teaspoons of a carrier oil like olive, jojoba or almond oil. Massage this daily into the problem areas.

A rosemary oil lymph massage, outlined above, will also help with cellulite.

Fades stretch marks

clears up acne

In the Garden:

a natural insecticide

TIP: 




Avoid buying pesticides from the store. They're bad for the environment, our health, our wallet…and they're killing all the bees!

Make an all-natural insect repellent instead by mixing 10 drops each of rosemary, peppermint, thyme and clove oil in a spray bottle filled with water.

Not only does this mixture kill pests but it will also stop fungus ruining your beautiful plants. Shake before use and apply throughout the garden. It's safe to use on your vegetable garden too!

In the Home:

mosquito repellent

natural air freshener

multi-purpose cleaning spray

insect repellent– will stop insects from coming into your place!
TIP: Rosemary essential oil is also one of the best natural insecticides and bug repellents!
Aromatherapy-Essential Oils can literally change your life.
When you're ready to give Rosemary essential oil (or any of the others) a try, you can purchase it here.
Aromatherapy-Essential oils therapy top 10 includes last, but not least, Tea Tree essential Oil.  It is distilled from the leaves and young stems of the Melaleuca alternifolia tree. NOTE: Please do NOT confuse this with the tea shrub Camellia sinensis, the oil of the tea tree. When ingested, it is actually quite toxic.
However, this favorite among essential oils has earned the title "medicine cabinet in a bottle" for its extensive list of extraordinarily beneficial external uses.
With its fresh, herbal and clarifying aroma, Tea Tree oil's claim to fame comes from its immensely powerful anti-microbial capabilities. While many of its benefits do indeed center around such things as cleansing wounds and treating fungal infections, tea tree oil has quite a few other less obvious uses, too.
Use tea tree oil in your shampoo to clear up dandruff or other scalp conditions. You can also use it to deep-clean your pores and keep blackheads and pimples at bay. Apply tea tree oil to insect bites to reduce inflammation and reduce itching.
Here is a list of things Tea Tree oil can treat:
topical antiseptic to treat wounds and infections

treats acne 

eliminates ringworm

treats nail fungus

eliminates foot odor

scalp and hair health–eliminates dandruff and smoothes dry skin

repels head lice

sore throat treatment

oral health

insect bites and stings

pest control

household cleaner

great for your garden
Anything we can do to avoid having to take medication, ward off colds, and overall just feel better, I say let's do it. Staying healthy should be our goal. Also, there are many holistic options to help preserve the health you have and to prevent future disease. Go here to read about lots of holistic options. 
Many acupuncturists use aromatherapy-essential oils to enhance their treatments with patients. For more information about acupuncture, go here.