New Hampshire attractions are plentiful. I raised my kids in New Hampshire where there is a bounty of beautiful things to see and fun things to do. My favorite sight seeing place is in Franconia Notch. From here, it was possible to view the "old man in the mountain" from your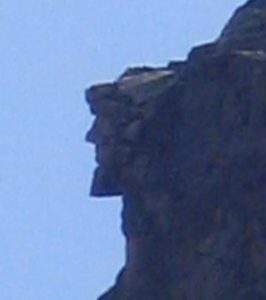 car. I used to love to take my kids there to look at it and hike around the area. We would go skiing nearby. Several years ago, the 'old man' dropped off the side of the mountain and is no longer visable.
Here is what the old man in the mountain looked like before he fell. I still like to remember him.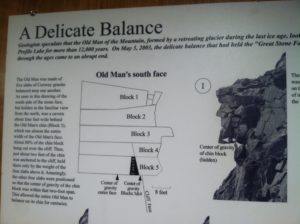 Although people can no longer see the "old man", there are still many wonderful things to do and see in New Hampshire. 
A few of my favorite New Hampshire attractions are:
Mt. Washington Cog Railway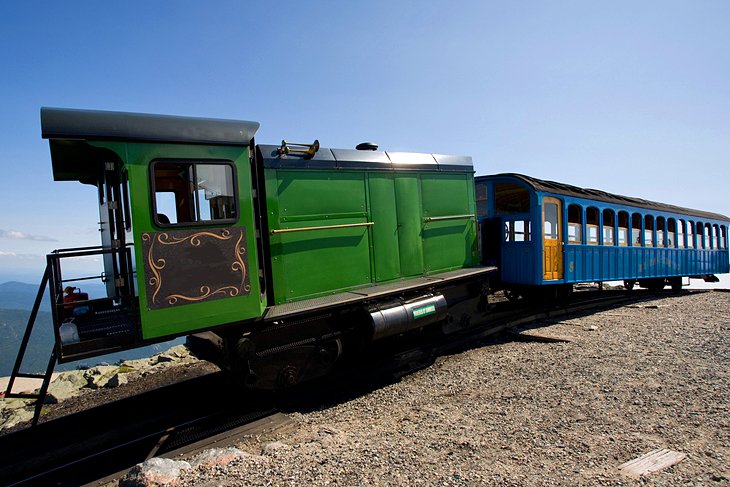 The easiest way to reach the top of Mount Washington, the highest elevation in the northern Appalachians at more than 6,000 feet, is on the steep Cog Railway that has been carrying tourists since it opened, the first of its kind in the world, in 1869. On a clear day, the view from the summit of Mount Washington spans four states; on a cloudy day, you may be able to look down on the tops of clouds. Those who long for the nostalgia of an authentic coal-fired steam engine train, can reserve the steamer special morning departures from late May through late October.
New Hampshire attractions include the Sherman Adams Visitors Center at the top of the notch. It houses a small museum; a cafeteria; and the Mount Washington Observatory, a research station that studies extreme weather conditions, for which the mountain is notorious. The world record wind speed was recorded here in 1934. Furthermore, from the opposite (Pinkham Notch) side of the mountain, you can drive up the six-and-a-quarter-mile-long Mount Washington Auto Road or ride a van operated from Great Glen Trails. In addition, climbers have the choice of several trails but should be aware of the mountain's unpredictable and sudden weather changes.
Address: 3168 Base Station Road, Marshfield Station
Accommodation: Where to Stay in New Hampshire 
Personal Note: I am proud to say that my daughter hiked the entire Appalachian Trail, from Georgia to Maine a few summers ago. So, although these trails that are suggested, are rough, people successfully hike them. I know from personal (once removed) experience! 
Strawbery Banke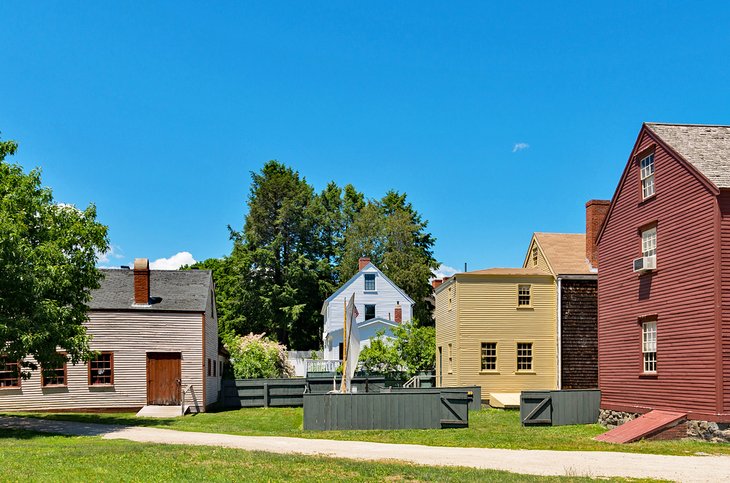 Strawbery Banke was the name of the first 1623 settlement at what is now Portsmouth. The ten-acre Strawbery Banke Museum contains houses from four centuries of the old port neighborhood. Some of these houses are restored and furnished to show life in the various eras, while others are preserved to show construction methods and restoration techniques. Those who are restoring old homes are especially interested in this.
Costumed interpreters demonstrate cooking, crafts, and skills from the various periods, and you can watch authentic boats under construction. The homes vary from that of a prosperous merchant and political leader to a 1950s duplex, and represent various ethnicities that called the neighborhood home. Period gardens, a 1770 tavern, a fully stocked World War II era neighborhood market, and frequent special musical and historical programs make this an interesting place to visit. In December, the houses and workshops are open for candlelight evening tours.
Address: 454 Court Street, Portsmouth
Accommodation: Where to Stay in Portsmouth 
New Hampshire attractions– See the Cannon Mountain Aerial Tramway and Franconia Notch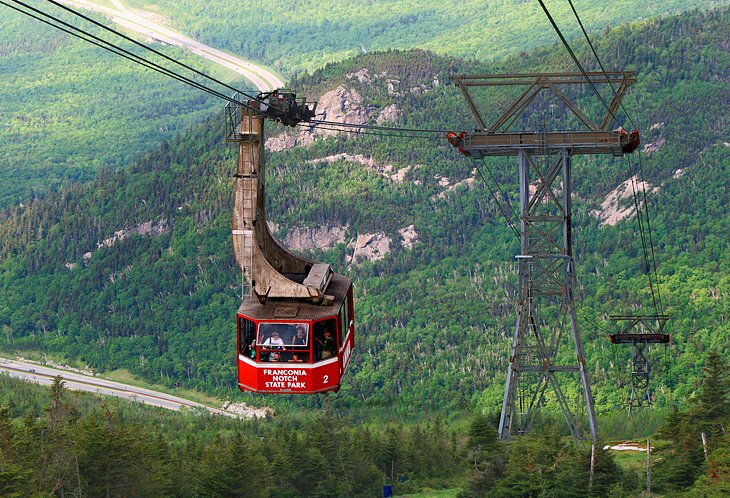 The first aerial tramway in North America, the Cannon Mountain Aerial Tramway carried its first passengers to the 4,080-foot summit high above Franconia Notch in 1938. On clear days, you can see New Hampshire's Presidential Range and mountains in Vermont, New York, and even Canada. The short Rim Trail to the observation tower offers spectacular views straight down into the floor of the notch. Glaciers form spots called 'notches' where a pass is carved through the mountain range. And Franconia is one of the biggest notches in New Hampshire's White Mountains.
Farther south in Franconia Notch State Park, Flume Gorge is an 800-foot-long crack in the rock at the base of Mount Liberty. Its walls rise 70 to 80 feet above the brook that flows through it, and you can follow it on a boardwalk just feet above the water. When the mile-high sheet of ice that formed the notch melted. Moreover, torrents of water raged down this valley, carving a 20-foot smooth-bottomed depression into the solid granite of the mountain.
Follow signs to The Basin, where the now benign Pemigewasset River still continues the process begun 10,000 years ago. In addition, Franconia Notch has miles of hiking trails, a campground, and Echo Lake State Park, with a beautiful sandy beach and boat rentals.
Address: I-93 exit 34B, Franconia Notch
New Hampshire attractions have something for every season:
Hampton Beach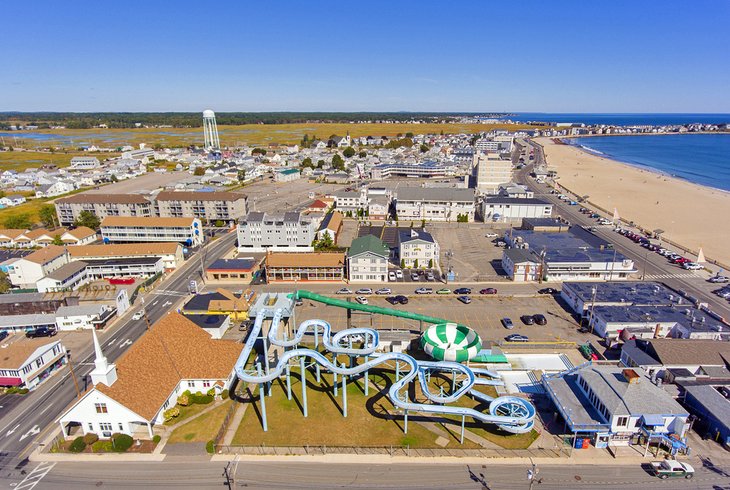 New Hampshire may have the shortest seacoast of any state, but it has one of the Northeast's favorite family beach resorts. Hampton Beach has been a popular resort town for generations, and still has its "casino" – a community focal point of beach resorts at the turn of the 20th century. These were not built for gambling but to house a ballroom, tea rooms, and family entertainment. Today, the Hampton Beach Casino Ballroom, which was built in 1899, is a live music and comedy venue on the boardwalk that lines the long white-sand beach. Other activities in this always lively town are concerts at Hampton Beach State Park's Seashell Stage, movies on the beach, and fireworks. Fun parks, soft ice cream, and deep sea fishing trips from the harbor round out the beach vacation experience. Each June, the beach becomes a giant art gallery, when international contenders vie for the title at the Hampton Beach Master Sand Sculpting Competition.
Fall Foliage
New Hampshire attractions are the most beautiful in September and early October when fall paints its maples shades of scarlet and orange and its birches a luminous yellow. Fall is my favorite time of year, especially in N.H. Almost any road you follow will bring views, whether it's a winding, tree-lined country lane or a highway that opens up sweeping mountain vistas. For its variety of views, follow the Connecticut River up the west side of the state, where routes 12, 12A, and 10 offer a changing series of views across valley farms to the mountains of Vermont. Take side roads into villages along the way. Walpole is at the southern end for picture perfect views of white church spires and village greens surrounded by blazing maples.
In the central Lakes Region, country roads north of scenic Squam Lake wind through pretty villages of Holderness, Sandwich, and Tamworth, with views to the White Mountains. Route 16 leads north to one of the state's most iconic fall views as the distinctive cone of Mt. Chocorua is reflected in a forest-ringed lake. Several options allow the driver a chance for "leaf-peeping" – cruises on Lake Winnipesaukee and Lake Sunapee, train rides into the mountains from North Conway, or various tramways to peaks in the White Mountains.
You can view foliage in the mountains and lakes from on high with a Helicopter tour from Manchester, or include several New Hampshire experiences – a lake cruise, riding on the Cannon Mountain Aerial Tramway, and a drive across the White Mountains on the Kancamagus Highway – on a New Hampshire-based 10-Day New England Fall Foliage Tour that includes Cape Cod and the Maine Coast.
North Conway and Mt. Washington Valley Ski Resorts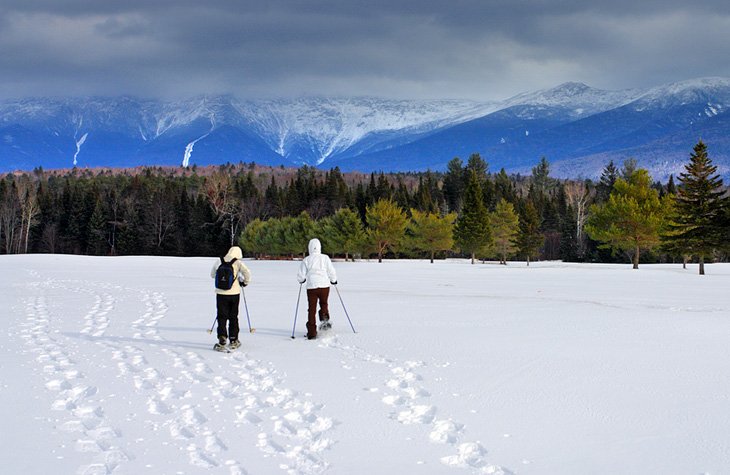 New Hampshire attractions such as North Conway, was one of the first ski resorts in America and is still a major ski destination. Six mountain resorts in the scenic Mt. Washington Valley offer state-of-the-art lifts and trail grooming, while North Conway and Jackson are centers of the lively après-ski scene. Cross-country (Nordic) skiing, snowshoeing, sledding, dog-sledding, sleigh rides, and ice skating make these resorts appealing to those who eschew downhill skiing. Most are four-season resorts, with golf, tennis, swimming, and other activities.
In the summer, Cranmore Mountain has an Aerial Adventure Park and Mountain Coaster, while Attitash Bear Peak offers an alpine slide, water slides, mountain bike trails, and horseback riding. One of my fondest memories was taking my kids and five of their cousins to the alpine slides. What fun we had there! Wildcat Mountain, one of the most challenging for skiers, has a zipline and stupendous views of Mt. Washington from its summit, where the skiers' gondola takes tourists in the summer and fall. At the other side of Mt. Washington is Bretton Woods, also with a zipline and other year-round activities. 
Black Mountain is an especially family-friendly ski area, as is King Pine. This all-season Purity Springs Resort is located Madison. North Conway is as well known to shoppers as it is to skiers, with one of New England's largest concentrations of outlet stores, as well as tax-free shopping. In the summer and fall, the Conway Scenic Railroad runs the entire length of the valley in vintage cars.
Lake Winnipesaukee is another New Hampshire attraction that brings back memories…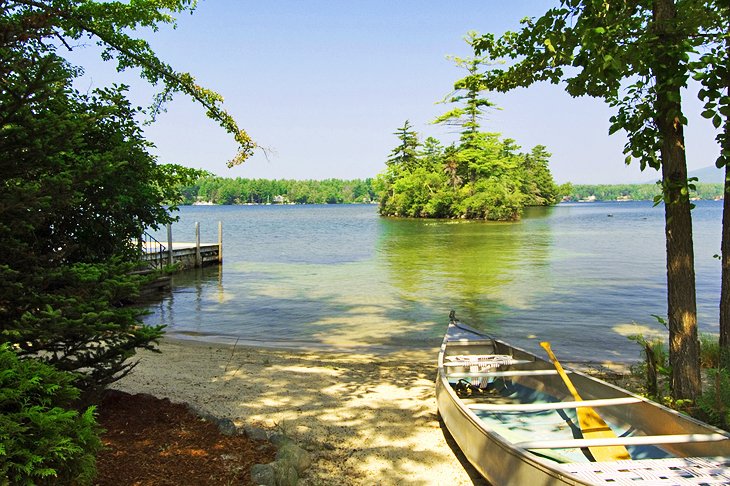 One summer our family rented a house here with another family. Memories of campfires, roasting marshmellows after swimming all day makes me smile. A safe, serene place to stay and have a vacation! South of the White Mountains, Lake Winnipesaukee, is the focal point of New Hampshire's Lakes Region. It also includes Squam Lake and Newfound Lake, which are less developed. Water parks, beaches, fast food and other family-oriented New Hampshire attractions surround Winnipesaukee, making it a beehive of summer activity. The west side of the lake is the most developed, especially around kid-friendly Weirs Beach. Meredith is more trendy, while the eastern resort town of Wolfeboro is quieter. Water sports are abundant! Sailboats, kayaks, and motor boats vying for water space with the historic cruise boat, M/S Mount Washington. The Loon Center and Markus Wildlife Sanctuary in Moultonborough protects breeding waters of these treasured birds. Here, visitors can learn about them. Nature and wildlife is also the focus of Squam Lakes Natural Science Center, which operates nature cruises on this well-protected lake. Most noteworthy is that was the setting for the movie, On Golden Pond.
Kancamagus Highway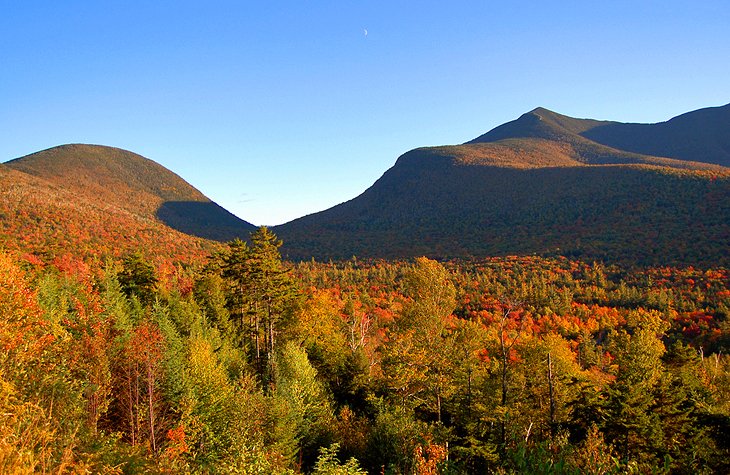 New Hampshire attractions are not all specific 'places'. This is really not a highway. It is a winding two-lane NH Route 112, which climbs over the spine of the White Mountains via New Hampshire's 'Kancamagus Pass'. In addition to sweeping views, this scenic route offers access to several natural and man-made attractions. Be sure to take advantage of the scenic pull-outs, as some of the best views are not visible from the road; this is especially true on the western side of the summit. If you have a motorcycle and love a beautiful ride, I highly suggest driving up through here on your bike! 
In addition, there is a covered bridge and two especially scenic spots on the Swift River at the Conway end: Rocky Gorge and Lower Falls, both popular for swimming and picnics. A half-mile trail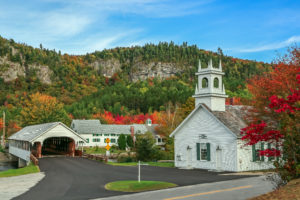 leads to Sabbaday Falls, where a mountain stream flows through a gorge with 40-foot walls. Wooden railings make it safe to look straight down at the waterfall and potholes.
The Kancamagus Highway ends in Lincoln, where Loon Mountain is not just a winter ski resort, but a year-round sports center. The gondola that carries skiers in the winter takes summer and fall visitors to the summit for views, a nature trail, and a tumble of glacial boulders that form caves and passageways. Open all year, this drive is especially beautiful during the fall foliage season.
New Hampshire attractions draw people from all over!
When traveling anywhere, always be equipped with games and fun entertainment ideas to do during some down time. Playing cards, board games on a rainy day, or singing songs by a campfire are fun ways to make memories. Pack up your favorites and get going!